Superior fertility solutions for superior results
Grow more. Grow Better. Grow your soil's health. High-Test Ag Humic-HT and Fulvic-HT offer producers a cost-effective way to dramatically improve yield and plant quality with as little as a single application. Return carbon to your land and vigor to your crops with High-Test Ag's proven biostimulant products.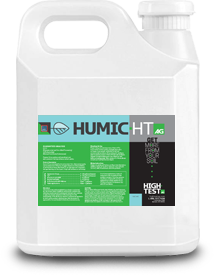 Humic-HT is an extremely beneficial supplement for all fertilizer programs, offering proven effectiveness of the highest quality humic in an easy to apply concentrated liquid form.
Buy Now

Fulvic-HT is a powerful aid for plant health and growth and is ideal for use with regular foliar feeding as well as herbicide, fungicide and pesticide applications.
Buy Now
Better Biostimulants
High-Test Ag humic acid and fulvic acid have been formed through microbial degradation of plants over thousands of years. Unlike "new carbon" peat or wood pulp, our products contain agronomically functional humified carbon that offers reliable benefits to both soil composition and plant growth. The best way to ensure you're using the most beneficial Humic and Fulvic is to look for the High-Test Ag label.
Humic Acid Content
Not all humic acid is the same. Our Humic-HT and Fulvic-HT products come from the finest, richest and purest source in the world. It is mixed with pure artesian water and filtered four times to ensure consistently high quality and superior results.
Colorimetric (A&L) 12%
ISO 5073:1999 (E) 4.5%
Precipitation (CDFA) 5%
Lamar Standardized Testing 4.6%
Activated Functional Groups
Carboxyl
Phenol
Ketone
Ester
Ether
Amine

Last year we used both Humic-HT and Fulvic-HT in-furrow and in various other applications. We saw improved early season vigor, as well as season-long plant health and standability. This translated into higher yields on those acres. We will be applying Humic-HT and Fulvic-HT again this year.
- Lucas ▪ Cedar County, NE

Maximizing ROI for farmers
Humic-HT and Fulvic-HT delivers a practical solution for improving soil conditions, nutrient availability and dozens of other benefits while reducing dependency on synthetic fertilizer and chemicals. This natural solution for improving plant and soil health has been shown by the USDA to deliver a clear financial benefit to growers.
Success starts in the soil
Every producer knows that if you take care of the land, the land will take care of you. There is no better way to improve soil structure and performance than high quality humic and fulvic acid applications.
High-Test Ag product benefits for soil include:
Decreasing toxins
Neutralizing acid and alkaline
Regulating pH-value
Increasing water retention
Improving microbial growth
Increasing buffering properties